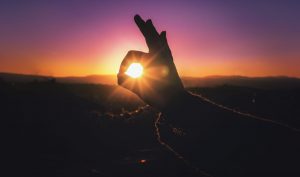 I løpet av de siste årene har jeg laget meg nye morgenrutiner. Jeg står opp en halvtime tidligere, for å få tid til å lese en inspirerende tekst, meditere og gjøre litt yoga før dagen begynner.
Det er som en daglig dose balsam for sjel og sinn. Dette salige påfyllet tar jeg med meg gjennom resten av dagen.
For tiden leser jeg i Melody Beatties bok «The Language of Letting Go». I morges serverte hun meg denne teksten:
Go easy. You may have to push forward, but you don't have to push so hard. Go in gentleness – go in peace.
Do not be in so much of a hurry. At no day, no hour, no time are you required to do more than you can do in peace.
Frantic behaviors and urgency are not the foundation for our new way of life.
Do not be in too much of a hurry to begin. Begin, but do not force the beginning if it is not time. Beginnings will arrive soon enough.
Enjoy and relish middles, the heart of the matter.
Do not be in too much of a hurry to finish. You may be almost done, but enjoy the final moments. Give yourself fully to those moments so that you may give and get all there is.
Let the pace flow naturally. Move forward. Start. Keep moving forward. Do it gently, though. Do it in peace. Cherish each moment.
Today, God, help me focus on a peaceful pace rather than a harried one. I will keep moving forward gently, not frantically. Help me let go of my need to be anxious, upset, and harried. Help me replace it with a need to be a peace and in harmony.
Klikk her for å lese flere inspirerende tekster.
Nå lurer jeg på: Hvordan liker du å starte dagen din? Hopper du rett opp av sengen og kaster i deg frokost? Eller har du faste rutiner du liker å følge? Jeg vil gjerne høre fra deg! Send meg en mail eller legg igjen en kommentar nedenfor.
Beste hilsen Irina
ps. Har du lyst på mer inspirasjon i hverdagen, så klikk på knappen nedenfor. Da får Shoppingfris nyhetsbrev rett i innboksen, én gang i uken.
JA, TAKK! Jeg vil bli inspirert
Obs! Du må bekrefte din epostadresse etter at du har meldt deg på. Hvis du ikke har mottatt ditt første nyhetsbrev innen få minutter etter at du har bekreftet adressen, så sjekk spam-filteret eller promotionsmappen i Gmail.