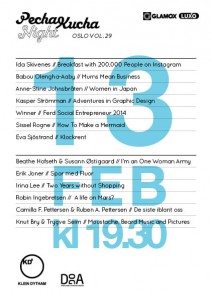 Torsdag 13. februar 2014 er jeg invitert til å delta på Pecha Kucha Night, Vol. 29 på DogA i Hausmanns gate 16 i Oslo.
Pecha Kucha ble startet i Tokyo i 2003 og fungerer som et kulturelt multimedia-event hvor deltakere fra arkitektur, design, film, kunst og musikk møtes og uformelt viser seg og sitt arbeid i en serie korte presentasjoner.
Hver deltaker viser 20 bilder, og hvert bilde blir vist i 20 sekunder. Jeg er blitt invitert til å snakke om «Shoppingfri». Det vil si at to år med kjøpestopp skal destilleres ned til 6 minutter og 40 sekunder! 
Pecha Kucha Night Oslo samarbeider med Aftenposten, som legger ut video av eventet på sine nettsider. Her er Aftenpostens samleside med link til tidligere presentasjoner.
Her er program for torsdagens happening på DogA:
Ida Skivenes // Breakfast with 200,000 People on Instagram
Babou Olengha-Aaby // Mums Mean Business
Anne-Stine Johnsbråten // Women in Japan
Kasper Strömman // Adventures in Graphic Design
Winner // Ferd Social Entrepreneur 2014
Sissel Rogne // How To Make a Mermaid
Eva Sjöstrand // Klockrent
PAUSE PAUSE PAUSE PAUSE
Beathe Hofseth & Susann Østigaard // I'm an One Woman Army
Erik Joner // Spor m Fluor
Irina Lee // Two Years without Shopping
Robin Ingebretsen // A life on Mars?
Camilla F. & Ruben A. Pettersen // De siste i blant oss
Knut Bry & Trygve Seim // Moustache, Beard Music and Picture
Praktisk:
Tid: Dørene åpner kl. 19.30.
Billetter til kr. 100,- selges i DogA-butikken (det er dessverre ikke mulig å forhåndsreservere billetter).
Les mer om eventet på Pecha Kucha Nights Facebooksider:
https://www.facebook.com/events/578537512227180/
Kanskje vi sees?!